NeverCeaseToCrease wrote:It's been 12 years but if anybody still cares I would say Oripa is the best software for crease patterns. Oripa is free, in English, and it can:
1.Draw grids
2.bisect angles
3.Turn three points into a triangular molecule
4.Draw perpendicular lines
5.reflect segments across lines
And, it's claim to fame, it can fold the model from a crease pattern. Personally I don't find this feature too helpful for complex models, because you have to have every crease included, including hinge creases which are a pain on box pleating models. Also, if you diagram an axial base it doesn't end up looking very helpful.
If you have an Android smartphone, you will be pleased to learn from this
other thread
that Michelle Fung has ported Oripa to Android.
If you are on iOS, either iPhone or iPad, you may be interested to know that I am creating an app to draw and verify CPs. It is not on the App Store yet but it is fully functional and I am looking for beta testers. I think it is easier to use than Oripa but I would like to have other people's opinion. It works differently than Oripa, so it may be surprising at first but once you get the hang of it, you will find it very speedy.
It has all the functions listed by NeverCeaseToCrease above, many improved, and some more:
Grids up to 64x64 on an iPad, with zooming
Angle bisection, trisection, 4-, 5-, 6-, 7-section
Segment bisection, trisection, 4-, 5-, 6-, 7-section
Fundamental bases: rabbit ear (triangular molecule), fish base, bird base, frog base
Perpendicular lines, parallel lines, line extension
Segment reflection (repeated as long as there is no ambiguity or the edge of the paper is reached)
Squash: find the missing fold to flatten a node
Huzita–Hatori axiom #5: fold a node to a line with another node as a pivot
Undo and Redo
Completely handles overlapping folds – no "duplicating segment"
It doesn't simulate (yet) the actual folding like Oripa does but it can check Maekawa and Kawasaki's theorems and tell you what problems it finds (missing folds, incorrect angles,…). Once all errors are corrected, you can export the file to Oripa through an e-mail and try to fold it there.
Here is a screenshot of the app: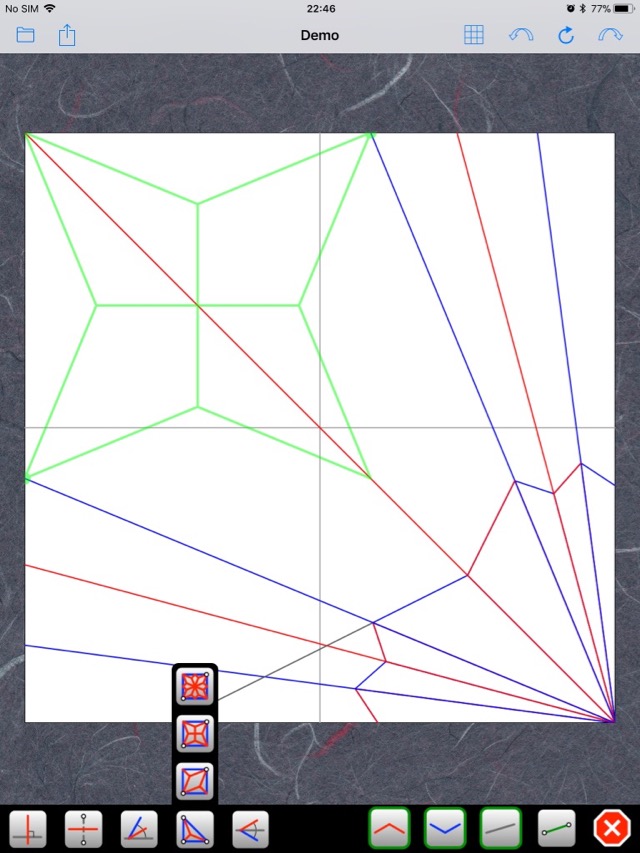 I also have a video demonstrating all the functions on an actual CP (Saku Saku's Penguin) but it is only in French. If you are interested, I can send you a link (I cannot post it here because it is not a permanent link.) If you have an iOS device (iOS 9.0 and above), send me a PM (private message) with your e-mail address and I can send you an evaluation copy.