Hi,
I recently designed simple origami pixels that can be joined together by folding on their back. Here is what they look like: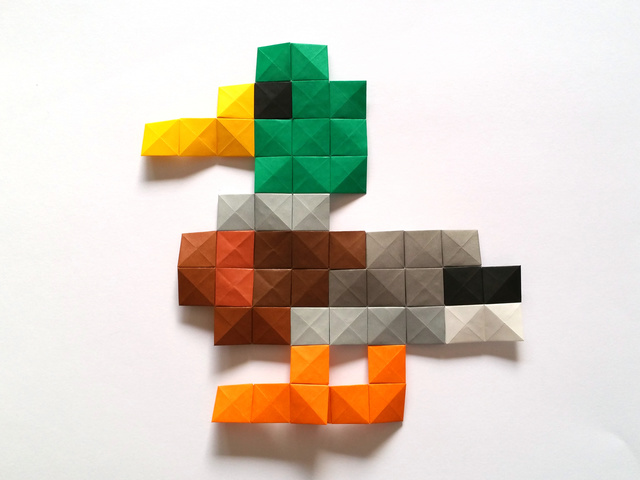 The mosaics are fun to make.... and to photograph.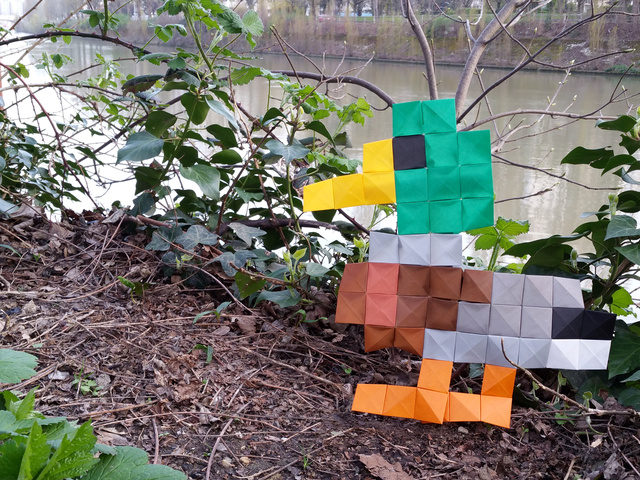 The pixels are very easy and quick to fold, and to join. The downside is that the lock is not very strong. But the important thing is that it is strong enough.
As you can see in this video where I show how to fold and join the pixel units, I can lift a big Space Invader mosaic (130 pixels made from 7cm squares of copy paper) without breaking it, so one can make murals and hang them on a wall.
Origami pixels is not a new idea, and in fact I found that there was an Origami Pixels project more than 10 years ago that was initiatied by the British Origami Society. I put all the information that I could find regarding pixels in origami on this page:
https://origami.plus/origami-pixel-unit ... mi-mosaics
Many thanks to Michel Grand who gave me a lot of information.
The most famous pixel unit seems to be Max Hulme's pixels, which where used to create a large "Picasso's Eye" mosaic.
I started to gather pictures of origami pixels mosaics made by different people on a new
Origami Pixels
site. Please let me know if you make some, so that I can add them as well.
Please let me know what you think of those new pixels.
Thank you,
Stéphane